group picture
Art with nanocrysrals
News
Logo of the team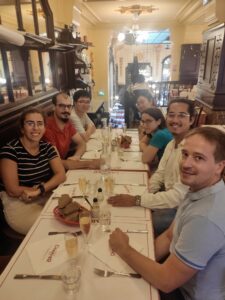 Charlie's farewell party – august 22
Team spring 21
covid return group picture – march 2021
at Emmanuel HDR defense on june 2017
*Paper : Now HgTe nanocrystals also shine light in the THz !
Usually thermalization is a non radiative process, but in THz range carrier cooling occurs via emission of THz radiation
See our joint work with @LPENS (Mangeney group) published in APL
*Celebrating Emmanuel's CNRS bronze medal
*Paper: Our joint paper with Sandrine, Ben and Juan regarding narrow bicolor emitting NPL is now published in nature comm
*Highllight : Our work on infrared has been highlighted by Synchrotron Soleil, see https://www.synchrotron-soleil.fr/highlights/2021/#page=30
*Paper : After 10 years of pretending doing infrared camera, here is our first camera based on HgTe nanocrystals ! Great collaboration with NIT and LPENS. paper is now published in Nanoscale.
*Paper : Our latest result dedicated to the design of HgTe nanocrystal based diode coupled with SnO2 electron transport layer are now published in ACS Applied nanomaterials.
*Award : Emmanuel receives 2022 CNRS bronze medal.
OCN Team member  – OCN group life – OCN research –  OCN publications